The clear majority of the U.S. economy is driven by purchases of products and services offline. More than 90% of purchases happen locally according to the Local Search Association.
We see the signs everywhere – Buy Local. Well, people listen.They prefer to still get most goods and services from within a 10-mile radius of their house.
This is how the buying process starts for your new customers that find you:
There is a need or a want for a service or product
Your potential New Customer does some research online to find a local business that can fulfill that need or want
They see your Local Google Business Listing and Reviews
They decide to buy from you or your competitors based on that information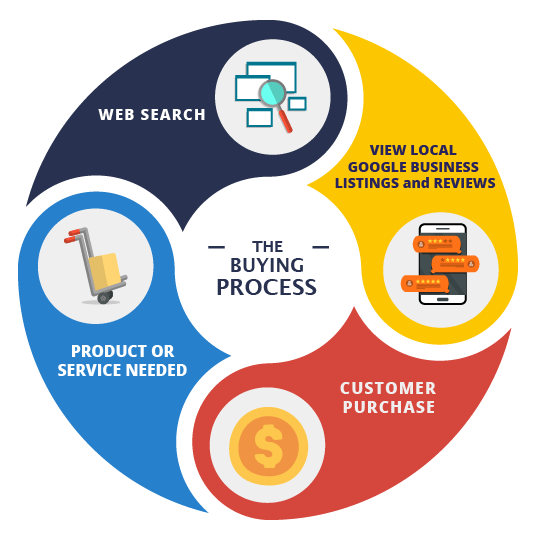 So, what do you need to do to make sure your potential new customers see you over your competition, get the correct information about your business, and encourage them to spend their money with you?
Sounds like a lot of work, doesn't it? This all needs to happen even before they get to your brick and mortar location to engage with your staff and sell them something.
How do you accomplish all of this?
You must first claim and optimize your Google My Business and Yelp profiles and enhance them with additional content. You must also have a Facebook Page and ensure that the basic data is accurate across all business listing sites.
These are what I call the Big 3 of Local SEO websites that you must pay attention to. Google is the #1 website and search engine in the world, with over 3 Billion searches a day. Yelp drives more traffic than any other review site, (I know they're a pain, but we can't ignore them) and Facebook is the #1 Social Media Site, with over 2 Billion active users.
The thing they all have in common is that you can leave a review of a business on each one of their sites. Volume, quality, and recency of reviews matters for ranking among ALL of these sites, but also more importantly, for customer decision-making as well.
Focusing on local search should be at the same level as having a sign out in the front of a store. Being found in local search is the new version of Yellow Pages advertising, but [local search] is so much more powerful. And you can optimize for local search by managing your online reviews.
Have a great week
Michael