Ok, I know the subject line is a little weird but bear with me, I promise there's a funny joke and lesson at the end.
This week, Amazon announced they will be delivering packages to their customers' cars if they offer that service in your city and you opt-in for it. Pretty amazing to be able to pull something like that off on such a large scale and do it right.
The reason they implemented this service is that, according to CEO Jeff Bezos, it's what his customers want. It's for anyone who doesn't want to risk having their package swiped from their front porch or who can't receive an Amazon order at work, perhaps because an employer doesn't allow it or because the company mail room is not secure.
Great idea, right? Give your customers what they want, when they want it, where and how they want to buy it. Make it easy for them to give you money and exceed their expectations by providing exceptional value and service.
Sounds like a recipe for success for any business.
So what happens when you're able to pull that off and deliver for your customers?
Answer: They start singing your praises to others by letting them know how awesome you are. It's the highest form of marketing any business can achieve when you turn an ordinary customer into a brand advocate for your company.
Bezos talks about how important word-of-mouth marketing is to the success of Amazon. In the physical world, an unhappy customer might tell six people, but online that same customer could reach 6,000.
In today's world, it's called Online Reviews. You know… the stars. It's what we all look at before we buy or visit. We get information about a business that we haven't used before.
Your reviews are the new word-of-mouth marketing for your business. Amazon gets this and was one of the first companies to embrace the power of reviews to grow their business to massive levels. They manage their reviews extremely well and it's the forefront of their marketing on their platform for selling all their products.
The same goes for any small business in today's ultra-competitive marketplace. Your reviews are how your potential new customers decide if they will spend money with you or not.
Now for the funny joke that I promised you. Below you will find a review of a real product: The Hutzler 571 Banana Slicer on Amazon. (Yes, it's a real thing.) They have 5,723 customer reviews with a 4.5 Star rating. In the marketing world, we call this overwhelming evidence of social proof that this might be a good product. This is exactly what you want for your business on Google, Yelp, TripAdvisor, Facebook, etc. Overwhelming proof that you're Awesome! People are extremely passionate about writing reviews and I found this one about the Banana Slicer. Enjoy!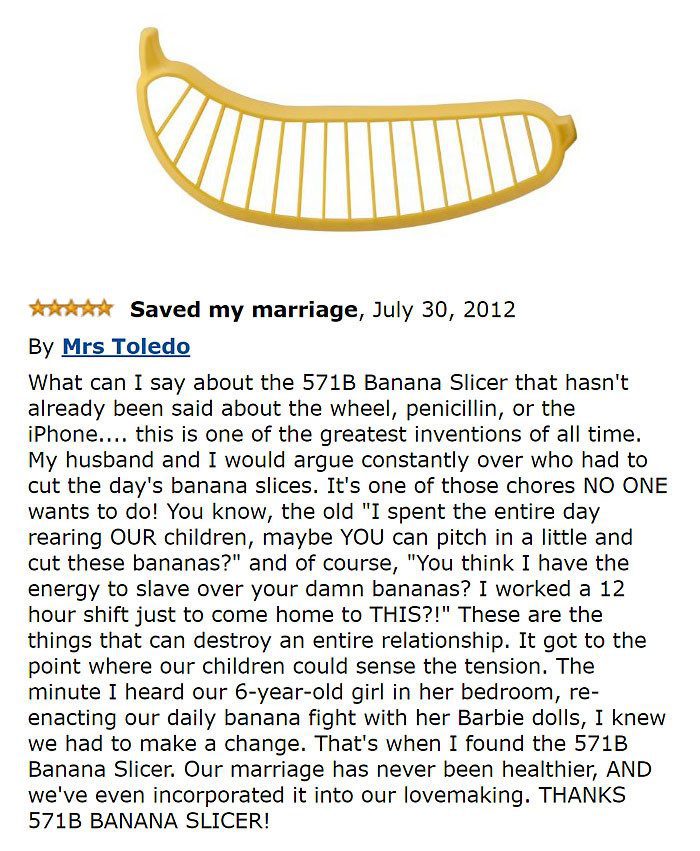 Have a great weekend!
Michael