As an independent business owner, it's crucial to make sure your website is ranking as high as possible on the search engine results ranking. And the reality is Google dominates the US search engine market, maintaining a 92.47 percent market share as of June 2021.
That's over 3 billion searches a day. Do you think some of your potential new customers might be looking for you on Google? Oh yes, they are.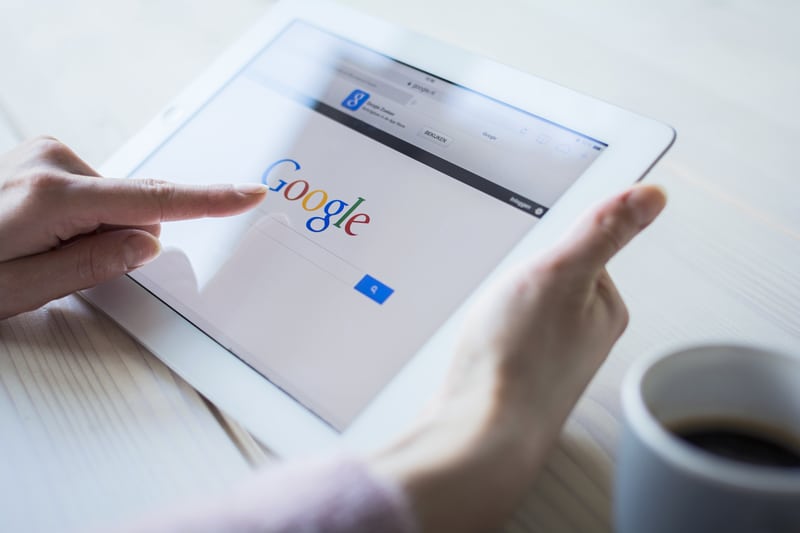 Add to that, with over 90% of internet users using the internet to decide where to eat, how reputable an auto repair shop might be, how to find the perfect local gift, or to solve any number of other wants and needs they might have, it's more important than ever to make sure your website is showing up on page one.
Why page one? Because the best place to hide a dead body… is page two of Google because nobody looks there.
How Do I Get My Website Up The Google Rankings?
It's a science to ensure your business comes up with they search for businesses similar to yours, and Google analytics and their search algorithm keeps constantly changing, making it more and more difficult to keep up.
But not to worry, there are some tips and tricks for improving your website's ranking on Google. Whether you're just starting out or you've been struggling to move up the rankings, this will give you some direction.
What Is Search Engine Optimization?
SEO stands for search engine optimization. One of the most important things you can do to improve your website's ranking on Google and all the other search engines is to make sure it's optimized for search engines.
There are two ways you will be found on Google. Via organic searches, and if you choose to, Paid Google advertising.
Organic search engine results:
Imagine someone wants to find a business like yours. What would they search? Probably something link "Italian restaurant in Pocatello, Idaho" or "auto repair in Evanston, IL." Most often, a user's query is for local search results because they are looking for something close to home to solve their problem.
To take it to the most basic level, the words they are searching for are considered keywords, and for your site to come up near the top then your site needs to best match those target keywords. This means using keywords in your title tags, meta descriptions, and throughout the content on your website.
There's no cost to appear in organic search results like Google's, and making small changes to your website with an eye to SEO can greatly impact your search rankings over time.
Unfortunately, there's lots of competition and the more general the search, the more results. Your goal is to come up in the first three listings, and for sure, you have to be on the first page. Like I said, no one looks past the first page of results.
Google Paid Advertising:
Google paid advertising, or pay-per-click advertising (PPC), is a form of online advertising that allows website owners to bid on keywords in order to have their ads appear on Google's search engine results pages. When a user enters a keyword that matches one of the keywords you've selected for your ad, your ad will appear as one of the top results.
This starts to get more complicated. You'll need to sign up for a Google account and then log into your Google Search Console and upload ad copy and images. PPC can be a very cost-effective way to reach new customers or new staff, as businesses only pay when someone clicks on their ad.
However, the process is constantly changing as Google gets smarter and learns more, so it's important to continuously monitor your ads to ensure costs don't escalate. And make changes to your keywords and ad copy to improve your rankings.
WARNING- I wouldn't suggest trying this on your own unless you have experience managing Google Paid Per Click accounts. It is very difficult and "techy" to set up and manage on a weekly basis. And if you don't know what you are doing, you could waste your budget quickly on searches that aren't relevant to the traffic you want to target.
I have spent the last decade becoming an expert in Google Pay Per Click- it isn't easy because they are always changing things. It's something that must be kept managed on a weekly basis. It is very effective to get new customers when done correctly. Be cautious of who you hire to manage this for you. There are lots of companies that claim to be Google Ads specialists that have no idea what they are doing.
If you are interested in getting into the game of paid advertising using Google Ads, my team who is personally trained by me would be willing to analyze your online presence and tell you if Google Pay Per Click would be of benefit to your business.
If this is something that you are interested, in click the link below to schedule a FREE one-on- one consultation with one of my Google Pay Per Click experts in your industry.
How Do I Get High Rankings On Google SEO?
When you know what types of people you are looking for, then you can get your hiring message in front of them in as many ways as possible. Make sure you have an eye-catching headline and include all the benefits of choosing you as an employer. We've seen huge success with these options, and you should be using them all.
Get The Info Right
You've likely Googled your business at some point and noticed that sites are populated with information about your business that you didn't provide. That's because Google, and other search tools, have set out to collect that information with bots. And the information may or may not be accurate. So here are two key points to begin with:1. Make sure your site provides your up-to-date detailed business information. Any of the common information people will want to know; location (with Google maps), phone, address, hours.2. Claim your online listings, especially setting up your Google My Business account. If you don't claim it, all sorts of inaccurate information might appear there irritating your customers and preventing you from getting business.3. Google has the market cornered, and one of the pieces of their algorithm is your Google review count. You want to be sure that the number of positive reviews you get on your Google listing is constantly growing. Fresh, new reviews will be a part of what moves you up the rankings.
If you don't have a website, or you're thinking of redoing yours, here's a great blog post I wrote that covers the key elements that make a perfect website. >> How To Build The Perfect Website

Make Your 5th Grade Teacher Proud
One of the best things you can do to ensure your website is search engine rankings are high on Google is to make sure the copy is written in simple, basic language to address the specific needs of your target audience. You also want to ensure your copy is mistake-free, spelling and grammar still come into play on the web.When you write in easy-to-understand language, it's easier for Google to understand what your website is about. It's also easier for your customers to understand what you do. This means your website is more likely to show up in the top results when people search for businesses like yours. So, make sure your website is easy to read and doesn't contain any complex language or jargon.
Don't Use PDFs Or Images Of Copy
One of the main problems with using PDFs and text images for your website is that it makes it difficult for Google to crawl your site. When Google crawls your site, they aren't able to read the text in PDFs or images, so that information isn't used as part of your search engine optimization.This means that if your website is mostly made up of PDFs and text images, you're not going to rank as high on Google as you could be. Make sure all your website's copy is typed into your website so that it can be crawled and accounted for.
Keyword Rich
While there are many things you can do to help improve your website's ranking on Google, there are also some common mistakes that business owners make. One of the most common is not using enough keywords in their content or meta descriptions.You should be sure to use a variety of different keywords throughout your website so that you can rank for as many relevant queries as possible. Sit down and brainstorm all the specific things that people might search for that you provide. Oil change, local gifts, carbonara, handmade, vegan, specific car brands, or product brands…Google sees what keywords you're targeting and matches those to what users are searching for. Google also monitors your website's user interaction. Generally speaking, when someone finds your page, they are expecting better rankings. If that doesn't work, then Google will remove your page for some reason. It's crucial to make certain your website offers searchers the solution to precisely the search they needed.
Mobile-Friendly
This is huge! Making your webpage mobile-friendly is more important than ever, as over 80% of internet searches now come from mobile devices.There are a number of things you can do to make your website look and function properly on smaller screens, such as using a responsive design and using easy-to-navigate menus. You should also optimize or change images to make sure they look good on smaller screens.
Backlinks
One of the most important things you can do to improve your website's ranking on Google is to make sure you have a lot of high-quality backlinks. Backlinks are links from other websites to yours, and they are one of the most heavily weighted factors that Google uses to rank websites.One of the best ways to get backlinks is to create great content that people will want to share. You can also reach out to other websites and ask them to link to your content.
Create High-Quality Content
When it comes to ranking your website on Google, you will need to publish high-quality content if you want to see any improvement. This is because the search engine giant looks at the quality of your content when determining where to rank your site.So, what makes high-quality helpful content? In a nutshell, it is content that is rich in information, original, and well-written. Consider adding blog content with highly targeted topics. It is also important to ensure that your content is updated regularly, as this will help you to keep your rankings high.
Keeping your site functional
In addition to quality content, you will also need to ensure that your website is optimized for Google search. This can be done by using the correct keywords and making sure that all of your website's pages are linked together. Nothing is more frustrating to a user than clicking on a link or button and having it go nowhere or to a missing page. That's called a broken link, and Google doesn't like them.Your page speed needs to be fast- people no longer have the patience to wait for images or pages to open. Have someone regularly monitor your site to make sure it's easy to navigate and doesn't put up any barriers.
How Do I Check My SEO Ranking On Google?
There are a number of different ways to check your SEO ranking on Google. One of the easiest is to use the Google Search Console. The Google Search Console is a free tool that gives you detailed information about your website's search engine performance. You can use the Google Search Console to see how your website is performing in Google search results, find out which keywords your website is ranking for, and see how your website's traffic has changed over time. Keep a diary of changes and results. Check it monthly, because as we've noted, Google is constantly making changes.
If you're searching for more in-depth information on Google rankings and what Google looks for when ranking websites, here's another blog post I wrote that will help:
>> 4 Reasons Your Business Isn't on Page 1 Of Google
But even better, let us do a FREE one-on-one website review with you to see where you stand and how you can improve your rankings on Google.
YES, I would like a FREE personalized, in-depth evaluation of my website by one of your DFY Website professionals. Click the button below, and we will:
• Evaluate your current website for search engine optimization
• Test your website for readability and understanding
• Determine if your website is converting potential new customers
• Analyze how your reviews and Google business listing affect your website
• Is your website helping or hurting you make sales?
• And much more
(Because of the amount of work that goes into each website review, we can only do 5 a week. So, if you're interested, please schedule now.)
Michael Thibault
Known as "The Done For You Marketing Guy for Restaurants." International Speaker on Restaurant Marketing. Published contributing author of 4 Marketing Books. Industry expert on Google Searches and Review Sites. Recovering Independent Restaurant Owner and Caterer of over 21 years. And, all-around good guy.
Follow Us On Social Media