Thanksgiving and the holiday season are quickly approaching, and that means you're probably getting ready to experience a surge in business. This is a golden opportunity to capitalize on an influx of customers and create a marketing strategy to generate more revenue in the following sales slumps that January and February often bring. Especially for restaurants.
You Have A Starving Crowd
Gary Halbert, a renowned copywriter, once asked, "If you have a restaurant and you can have one thing, just one thing, over all your competitors, just one thing, what would that be?"
The answer, of course, is a starving crowd.
When you go to a sports stadium, you know that all the food and beverage service will be pricey. Where else are you going to go? It doesn't really matter what they charge. If you're hungry and there are 60,000 people, and there's only one restaurant, that's your choice.
Think of your marketing as seeking out starving crowds. That's what your marketing always needs to focus on. Finding starving crowds.
The holiday season usually means a large influx of customers and a starving crowd. And not only your regular customers but new customers too. They might be coming to your restaurant for a party that a friend or family member planned or a meal hosted by a business colleague. Whatever special occasion brings them, it is a perfect opportunity to maximize their value to create more business.
Leverage Busy Season With A Three-Pronged Approach
There are three key elements to get the most out of this starving crowd. And without a plan for it, the season will quickly pass you by. Now is the time to start thinking about how you will take advantage of this opportunity.
1) Get People to spend more
There are a few different ways to get customers to spend more during their visit to your restaurant. One way is to focus on gift card sales. Black Friday is the perfect opportunity to market gift cards, as people will be out shopping and looking for deals. Consider dine-in shopping specials for people out shopping that day, or market your catering and in-house holiday parties.
Bundling items for holiday menus – three-course meals with a couple selections for each, all themed for the holidays, will bring a higher check average.
Specialty holiday menu items – stand-alone desserts, cocktails, or appetizers – a google search gives you an endless parade of ways to make them look unique. These can be premium products that people find hard to resist on "special occasions."
Black Friday Gift Cards with bonus certificates – this is a no-brainer. Sell Gift Cards when people are overwhelmed by their shopping lists, and gift cards are an easy solution. Marketing them heavily in-house, and offer bonus certificates (i.e., buy $100, get $10) with every purchase so that the purchaser receives a benefit too (and encourages another visit!)
Dine-in shopping specials for people who are out shopping that day. If you are near a big box store or a mall that typically gets busy with shoppers, entice them with signage and windshield flyers; everyone needs to take a break eventually.
Holiday catering – whether you have the space for in-house parties or will cater on location, even a few small parties can increase revenues and find you a source of new customers.
Meal, hors d'oeuvres, or appetizer kits to take home for holiday parties. People are busy and, in the last couple of years, have become accustomed to taking home meal kits to finish themselves. Creating a simple-to-execute, cost-effective to-go kit is a great add-on for many diners.
2) Get Them On Your Customer List To Continue To Market To Them
So often as we say goodbye to guests after they've dined with us, "thanks for coming, we HOPE to see you again." Many of them walk out the door and never return. Not because you didn't serve a fantastic meal or provide an incredible, memorable experience. But because they get busy with their lives, they forget their regular routines.
Find a way to build a customer list to capture all the relevant contact information about them so you can use it to market directly to them and influence their behavior. You want to become an interrupter of their routine and build relationships. Use your marketing to encourage them to return again and again until you have built a solid, loyal connection with them and get consistent repeat customers.
3) Influence Them To Return Again Faster
Once someone has had a great experience in your restaurant, it is much easier to get them to return again. They know what you offer and where you are and enjoy your food and staff.
You have a larger crowd during the holiday season, so this is a great opportunity to give them a bounceback offer to return again within a short window.
This does NOT mean offering a discount – you want to give them something more enticing that creates a sense of fun and intrigue and is different than anything they might get from your competitors.
The #1 Holiday Bounce Back of all time is our No Peeking Promotion. You give each table in December a red envelope that has in big, bold letters across the front, "No Peeking, Bring this back in January to see what you have won!" Your unique and creative marketing will make you stand out from the competition. Customers are more likely to choose your restaurant again when they are engaged and entertained.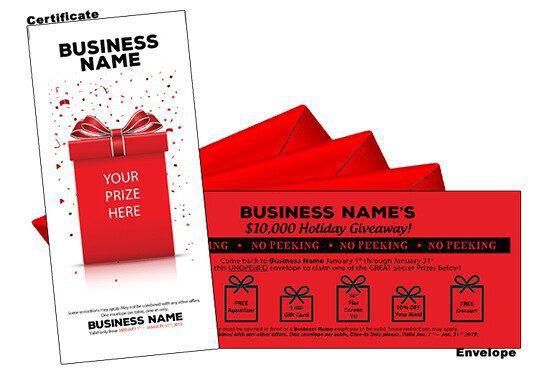 Even if only a quarter of the people you give them out return with them, that brings in more customers than you likely would have seen in January. And we regularly see response rates between 20 and 80 % on this campaign.
To see how one restaurant owner got an 82% redemption rate and made over $110,000 in extra sales from this exact promotion, click the image below and watch his video.
Creating a bounceback offer to give out to the crowds in December to encourage customers to return in January when business tends to slow down is a smart marketing move.
Make A Plan Now To Avoid A Sales Slump
Your starving crowd is headed your way. What's your plan to make the most of them. The busyness of the holidays can take over any planning for the future. So now, before it gets crazy, making your plan to maximize the opportunity will make all the difference.
Get your customers spending more, add everyone to your customer list, and send them home with a bounceback offer to return in January. Offering these types of incentives is a great way to maximize revenue during the holiday season.
Most restaurants run themselves ragged in December, basking in the glory of a full house but have yet to make a plan to prevent the sales slump that inevitably comes in January.
Michael Thibault
Known as "The Done For You Marketing Guy for Restaurants." International Speaker on Restaurant Marketing. Published contributing author of 4 Marketing Books. Industry expert on Google Searches and Review Sites. Recovering Independent Restaurant Owner and Caterer of over 21 years. And, all-around good guy.
Follow Us On Social Media