Online reviews posted by consumers on sites like Yelp, TripAdvisor, Google, etc. have the unique ability to influence consumer behavior and purchase decisions. The latest research shows that:
88 percent of Internet users read reviews to determine the quality of a local business.
Online reviews inspire trust twice as much as general social networking "likes."
4 in 5 consumers will reverse their purchase decisions after reading a negative review of a business.
With numbers like these, it makes total sense that smart brands and businesses are leveraging reviews to gain a competitive edge. When I say leverage, here is a perfect example of what I mean-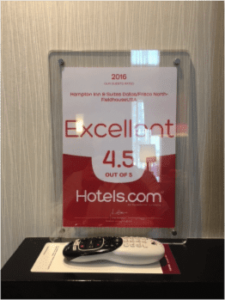 I'm at a Hampton Inn in Texas right now writing this email. I look up and they have a nice sign displayed in the lobby area that shows their Hotels.com review rating:4.5 out of 5 Stars.
Great job and nice hotel. It reinforces the buying decision and encourages more positive reviews and referrals.
Leverage.
Successful Business that know how to leverage their online reviews do 4 things:1. Listening closely to customer feedback on online review sites;
2. Responding actively to what customers are saying;
3. Analyzing review data to improve the customer experience;
4. Generating more positive new reviews to engage audiences and build their online reputation.
Wrote the New York Times' Matt Richtel: "(The) wealth of information and user reviews is causing a fundamental shift in how consumers make decisions."
The shift that reviews are causing can be felt on the business side of things, too. It's become part of the modern marketing mix. These days, it's not uncommon to see "review management" as an operative phrase in everything from corporate strategies and brand books to customer experience management processes and SEO campaigns.
Great reviews = positive impact on your bottom line.
Have a great sunny weekend and remember watch those reviews!
Michael