Bring Your Customers Back In August With The Christmas In July No Peeking Promotion

#1 Restaurant Promotion Of All Time Works For Dine In Or Carryout
"It was a GREAT month! We had 60% redemption rate on our Promotion and a 22% increase in sales over previous years. Thanks!!!!!"
"We get a better return every year on this promotion – ensuring a busy month! "
"Our guests are always excited by this promotion, and usually come in waving them around : ) They love it."
"I can say that this Promotion was a huge part on our staying in the black for the month."
"Everyone got a kick out of it, all the guests loved it, and the wait staff enjoyed the buzz and excitement. Best of all, sales were up!"
How It All Works
We have adapted the #1 Restaurant Promotion to help get your customers back in to your restaurant now that you're back open. This promotion works like Christmas Magic, getting your customers back in August for dine in or carryout / delivery. Give yourself and your guests a much-needed present this summer and take advantage of the #1 PROVEN and TESTED Restaurant Promotion Of All Time – The No Peeking Promotion.
It's a simple Red Envelope given out to your customers in July, when you are busy – one to each table or carryout / delivery order. As you cab see from the example below, there are various prizes inside that your customers can win, but they can't PEEK. It's this simple: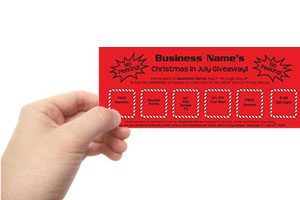 Step 1
Pass out the envelopes to your customers in July.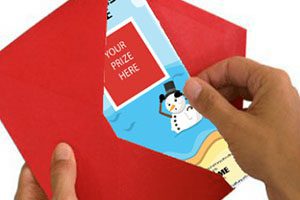 Step 2
Your customers will bring back their envelopes in August and open it in front of a staff member to see what they have won.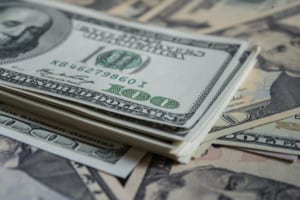 Step 3
Watch your register fill up with cash from hungry customers with No Peeking envelopes.

This promotion works like crazy because everyone loves to win! We have been doing this promotion for restaurant owners for the past 17 years, and let me tell you…IT WORKS!
It has been proven and tested to work by thousands of restaurants with different styles and number of seats in all 50 states and Canada.
Your customers can't wait to rush back into your restaurant to see what they've won!
Tips From Other Restaurant Owners Who Have Used This Promotion
"4000 Customers Redeemed Envelopes"
Highlight a small prize on the envelope, but don't include any certificates for that prize inside. We all know that no one likes winning the smallest prize.
Have one grand prize to give away that gets people excited. This may include: a Smart TV, an iPad, a trip for two, or even a pair of tickets to a sporting event or concert. Don't forget to take pictures when you give the winner their grand prize!
Simple prizes to give away may include: a free appetizer, dessert or beverage, a percentage off the bill, a BOGO coupon, gift cards, etc. Pick the prizes that work best for your business.
The best part is, we will do all the work for you! I know you're busy, I used to own restaurants myself – I get it.
We will design, print, stuff, and mail your envelopes to you in time for you to pass out to your customers in July. Just hand them out and watch your sales in August soar!
Another huge benefit of this promotion: it's easy, inexpensive, and done for YOU!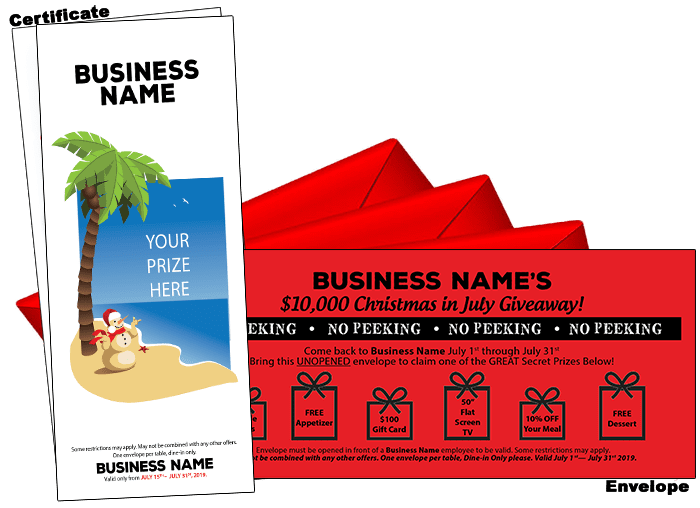 There are no mailing costs, because you don't have to put a stamp on these envelopes and mail them out. You HAND them to your customers that come to your restaurant. You know it's getting directly into the hands of the right people because your staff gives them to your existing customers. That's half the battle for a successful marketing campaign!
It's like guaranteed delivery to your best customers for FREE!
What To Do Next
Step 1: Click the ADD TO CART button below to fill out your order form.

Step 2: We will call to confirm your order and get some information from you, then start designing your customized envelopes and certificates.

Step 3: We will send you a proof then print, stuff and seal, then mail your envelopes to you to hand out to your customers. We do all the hard work for you!