How It Works To Increase Your Sales In January
It's a simple Red Envelope given out to your customers in December, when you are busy – one to each table or carryout / delivery order. Inside, there are various prizes from your restaurant that your customers can win, but they can't PEEK until January when they bring them back. It's that simple.
This promotion works like crazy because everyone loves to win! We have been doing this promotion for restaurant owners for the past 18 years, and let me tell you…IT WORKS!
It has been proven and tested to work by thousands of restaurants with different styles and number of seats and in all 50 states and Canada. Your customers can't wait to rush back into your restaurant and see what they've won!
Works To Increase Sales For Both Carryout and Dine-In
Simply staple one to every bag or put inside the bag with every Carryout order in the month of December. Then, watch your Carryout and Dine-In sales grow like Holiday Magic in January. We will customize your promotion to make sure it works specifically for your situation. We will tell you exactly what other restaurants have done that works for building Carryout sales and customize for you.
Restaurant Owner Gets 82% Redemption Rate!
Over $110,128 In Sales!
Here's how he did it:
Highlight a small prize on the envelope, but don't include any certificates for that prize inside. We all know that no one likes winning the smallest prize.
Have one grand prize to give away that gets people excited. This may include: a Smart TV, an iPad, a trip for two, or even a pair of tickets to a sporting event or concert. Don't forget to take pictures when you give the winner their grand prize!
Simple prizes to give away may include: a free appetizer, dessert or beverage, a percentage off the bill, a BOGO coupon, gift cards, etc. Pick the prizes that work best for your business.
Send out reminder emails (Super Charge your promotion)
What Other Restaurant Owners Have To Say…
$90,000 in Sales! I used No Peeking for first time this past January & February. I was up in sales $90,000 between the two months!
Cheryl
Gianelli's Pizza &Chicken Man
Over $61,349 In Sales! Better return every year! Red envelope sales over $61,349!
Angel Harper
Mocha Cabana
Sales Up Over 21%! Most successful promotion in 23 years. 82% Return and Sales up over 21%!
Tom Beckmann
Sluggo's Sports Pub & Grill
Top Sales Month! This promotion gave us one of our top sales months for the year.
Craig Spencer
Main St. Grille
Extra $9871 In Sales Most successful promotion I have run! Brought in an extra $9871.
Serena Zinsmeister
Owner, The Breakwall Food & Spirits
ROI of 762.89%! Best promotion we have ever done! We do it every year, ROI of 762.89%!
Tory Nelson
The Wapiti Pub
Sales Up $18,944 34.4% Redemption rate. Additional sales up $18,944!
Brett Knisely
Lake Inn Food & Spirits
52% Redemption One of our 3 best months. 52% redemption. Loved it!
Chad Kimmel
Owner, Grand Illusion Hard Cider
40% Return 40% return. Can't wait to do Red Envelope again.
David Binstock
Owner, Fuddruckers
6 to 1 ROI 7th year doing Red Envelope with you. 6 to 1 ROI. Great comments from customers.
Dean Gonsior
FIREBREW Bar & Grill
Sales Up 29% Sales up 29%! Huge Success. No question in my mind, we're doing it again.
Karen Marshall
Marcella's Pizzeria
12.25% Increase In Sales! 61% redemption rate! 12.25% Increase in sales!
Kevin Beshara
Colonial House Restaurant & Bar
PERSONALIZED MARKETING CONSULTANT


Who will help customize your promotion and tell you what works.
Retail: $197

FREE
SET UP &
NO PRINT PLATE CHARGE

Retail: $50

FREE
It's All Done For You
The best part is, we will do all the work for you! I know you're busy, I used to own restaurants myself – I get it.
We will design, print, stuff, and mail your envelopes to you in time for you to pass out to your customers in December. Just hand them out and watch your sales in January soar!
Another huge benefit of this promotion: it's easy and inexpensive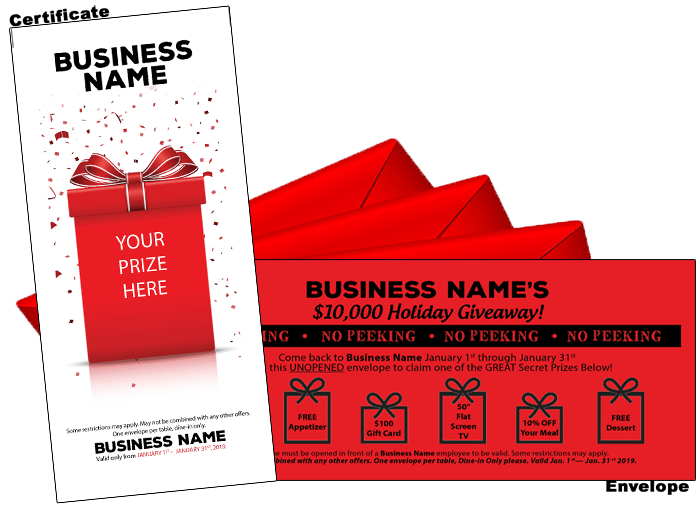 There are no mailing costs, because you don't have to put a stamp on these envelopes and mail them out. You HAND them to your customers that come to your restaurant. You know it's getting directly into the hands of the right people because your staff gives them to your existing customers. That's half the battle for a successful marketing campaign!
It's like guaranteed delivery to your best customers for FREE!
It's As Easy As 1…2…3
Click the big ORDER button below to fill out your order form.
Make sure to check your email for information about customizing your certificates and envelopes
We will send you a proof, then print, stuff, seal, and mail your money-making Red Envelopes to hand out in December. We do all the hard work for you!
Questions? Call us at (248)716-3110 or email us. We love helping restaurants make more money with no work on their part!