Do you want to know the secret to getting the most marketing mileage and sales increasing power out of a single promotion?
As an independent restaurant owner, it can be tough to generate sales without dedicating a lot of time and resources into coming up with creative restaurant marketing ideas.
Making this one critical mistake when deciding what promotion to do to increase sales could prove disastrous.
I'll give you the secrets to deploying effective promotions and what you need to do first to produce results, but first – let's talk about WHY this is an important part of your overall money-making marketing strategy.
Divide Your Marketing Into Two Categories
When it comes to marketing, there are two main types: marketing aimed at acquiring new customers and marketing aimed at retaining existing customers. New customer acquisition campaigns are important and often what restaurant owners focus on, but they are only successful if you are keeping your current customers happy.
Imagine your business is a big bucket and you keep pouring new customers in the top. But the bucket has holes. You lose some of those people, they move, they die, they *gasp* forget about you, they get lured by the competition, you don't provide what they want. That's why retention campaigns are so important – they help you increase customer satisfaction and encourage customers to keep spending their money with you.
New Customer Acquisition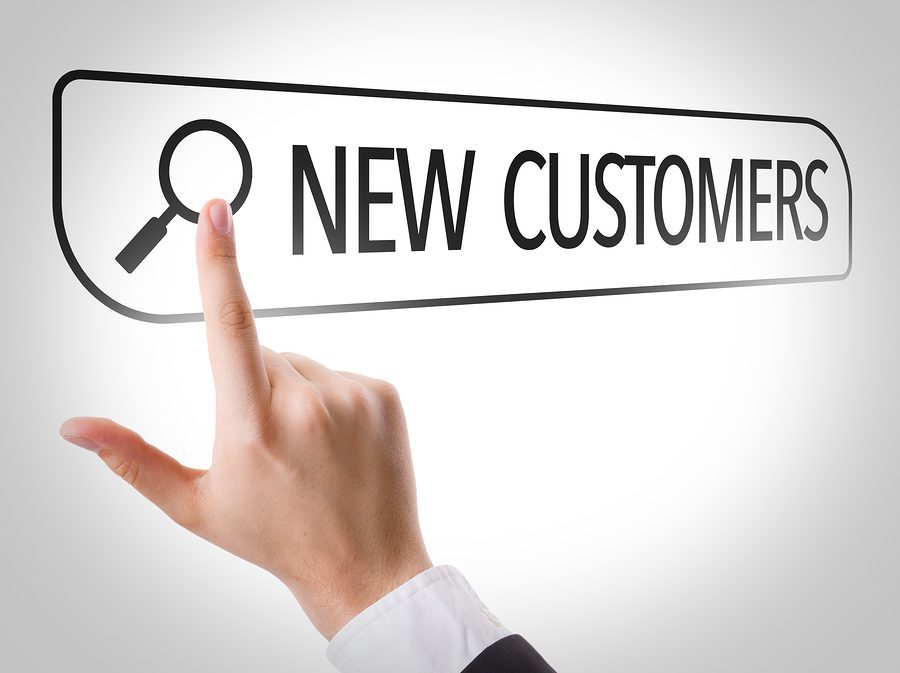 There is no denying the importance of acquiring new customers. Your business cannot grow without them. However, acquiring new customers can be very expensive and time-consuming.
According to the Harvard Business Review, it's 5 to 25 times more expensive to acquire a new customer than retain an existing one. And if you are spending all that money, you better be sure your bucket doesn't have holes in it. That way, when you do acquire a new customer, they become repeat buyers.
Since new customer acquisition is so expensive and is ineffective if you aren't turning them into repeat customers once you get them (what a waste of money if they come once and never return), let's focus on plugging the holes in your bucket. Consider that perhaps you don't need more new customers, but more frequent customers.
Customer Retention
Retaining your customers is essential for any business – but it can be especially difficult if you're an independent business owner without a lot of time or resources to invest in marketing efforts.
Fortunately, assuming you provide excellent customer service and delicious food, then retaining customers can be a relatively easy feat. There are many customer retention strategies you can use to get your customers back spending more quickly: building a database of existing customers is a great start.
This way you can communicate to continuously build a relationship and foster a connection. Using a loyalty program as a lure to do this and offering perks like points and rewards; birthday campaigns, newsletters (email or paper), special benefits or special events for your most loyal customers, bounce back offers to give to give away to get more customers to "bounce back " into your business sooner, in-house marketing, follow up surveys, referral campaigns to reward people who refer their friends or family members with incentives such as gift cards and coupons. There are lots of options.
Free Offer- If you're looking for specific answers to getting your existing customers back quicker spending more money with you instead of your competitors, simply click the button below to schedule a No- Hassle Marketing Idea and Analysis Session with one of our Marketing Experts in your niche.
It's a $297 value, really! But it's free to you because you are part of our DFY community, and you read my article
Do You Know Your Goal?
Your marketing solution depends on your marketing goal. This is where it all goes off the rails if you don't know what you want. Marketing is very different, just like your customers. We don't talk to new customers like we would greet someone who comes into your business once a week for the past 5 years. You need to ask yourself before creating, spending money on any promotion these key questions:
Are you looking to recapture customers who have stopped buying from you (i.e., lost customers)?
Influence buying habits to encourage people to spend more money with your business each visit?
Reward existing customers for their loyalty?
Increase the frequency of their visits and improve repeat visits?
Or build your sales and list to fill your bucket with new customers?
Once you know your promotion's goal, it is much easier to determine how best to achieve it. When I talk with new clients and go over what their goals are for their marketing, I always get the same answer when I ask the question?
And the standard reply is almost always YES! I hate to burst your bubble, but they are two very different campaigns and should be created and implemented with a specific goal in mind.
Let's focus on the easiest and most profitable marketing
Getting customers to return more often is one of the easiest ways to grow your sales. Let's say a customer comes to your business once a month. What if you got them to come twice a month? Double the sales! That is one of the primary reasons why a bounce back offer is so successful- it forces them to act sooner than they would have, expediting sales growth.
Using a well-executed bounce back promotion can help you increase the frequency of customer visits and increase your revenue in a short period of time.
What Are Bounce Back Promotions?
When a customer has come in and spent money at your restaurant, at the end of the meal they are given a bounce back. It's got an enticing offer that they need to bring back on their next visit to redeem, and it typically has a shorter expiry date.
IMPORTANT: The important differentiation for you to note is that nobody gets this offer who hasn't already given you money. You are not giving a discount to get people to come in, you are rewarding those who have come in and spent money to encourage them to return.
Bounce back offers work because they create a sense of urgency for customers. They provide an incentive for customers who may have been slow to visit your restaurant again to come back sooner rather than later. They create a sense of fun, and if you design them right, they have an element of curiosity by not revealing what the special offer is. Bounce backs can help to engage first time guests and keep your existing customers coming back.
And importantly, the cost of the campaign is low. If you hand an existing customer a printed promotion inside your business, a lot of good things happen.
There is no postage required since your staff hand them out directly to paying customers. And it's like guaranteed delivery right into the hands of your best customers! The ones already giving you money.
The results are a great ROI since repetitions tend to be high, and it is a limited-time offer.
How To Optimize Your Campaign For Performance Success
The first step is to make sure your staff is well versed in the details of the campaign – including how to deal with people who don't understand it, don't like any parameters you've put on it, or bring it in after the expiry date has passed.
Encourage your staff to make a big deal out of the prize or offer when the bounce back is redeemed. If you are offering a few larger "top prizes," if you are doing a scratch off or no peeking promotion maybe a bell rings, or a cheer goes up. It's important that there is an air of excitement surrounding the campaign.
To give you a real-life example, we offer a St. Patrick's Day Scratch Off Promotion. To optimize it – we help our clients select the prizes and how many of each prize to offer. The campaign gets great results because of the curiosity factor. People can't scratch the card until they bring it back in on their next visit. Few people can resist an unscratched prize-winning card (and we make sure they are all prize-winning!). We even have a little trick up our sleeve to ensure no one goes away disappointed in their prize.
Our DFY St Patty's Day Scratch and Win Pot Of Gold Bounce Back Promotion For March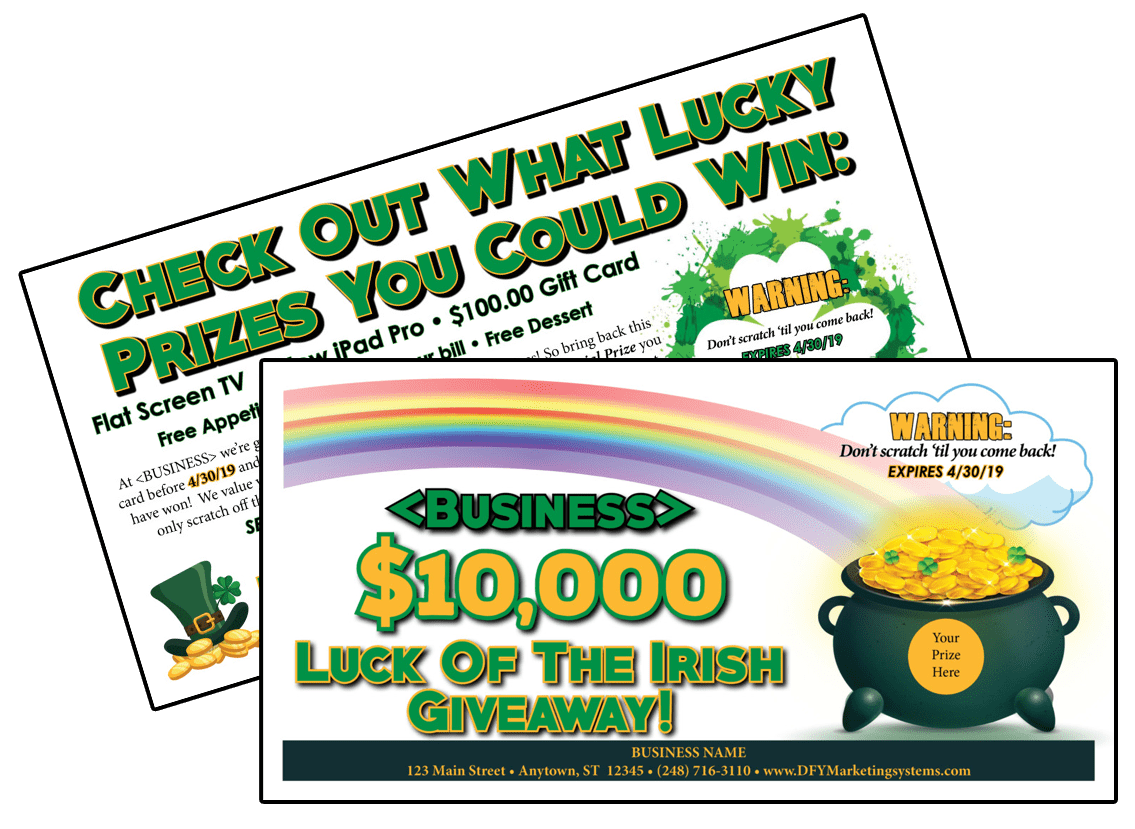 The other important strategy to optimize results for a bounce back promotion is to slipstream the entire promotion. What I mean is to tie it in with current events, special occasions, or holidays to connect it to what's already in people's minds. In this case, we use St. Patrick's Day. But you could use your business's birthday, the Olympics, a TV game show, or a current news event.
To extend its reach, you can post about it on your social media accounts both in advance of the event to create excitement and during the event, showing happy prize winners. This has the potential to encourage those who may follow you but have never visited to come for the first time.
You also want to be telling your existing customers about the event so that they know there's a special reason to come in and dine.
If you use this information, it will help you plan and implement a bounce back campaign in your restaurant, optimized for success.
If you'd like more details about how you can have a customized St. Patty's Day Pot Of Gold Scratch And Win Bounce Back Promotion for your restaurant… (one of our most highly effective customer retention strategies completely done for you and shipped to your door ready to hand out), click the button below to get all the details:
Michael Thibault
Known as "The Done For You Marketing Guy for Restaurants." International Speaker on Restaurant Marketing. Published contributing author of 4 Marketing Books. Industry expert on Google Searches and Review Sites. Recovering Independent Restaurant Owner and Caterer of over 21 years. And, all-around good guy.
Follow Us On Social Media