Do you care what people say about you and your business online?
I'm referring to social media and review sites like Yelp, Google, Facebook, TripAdvisor, etc.
You should because it's what your new customers see, and your new employees as well! Everyone checks you out online (92.8% of your new customers) before coming to your restaurant and spending money with you, and even before a job interview. Question is… what do they see? Are you in control of what they see? Does it convince them to try your business if they are a new customer?
Let me ask you a question- Do you know what the most precious asset for your business is?
No, it's not your shiny new walk-in cooler or that new POS system you installed last month. It's your reputation. Your ONLINE reputation for your business. Now is a good time to start paying attention to those reviews.
If the majority of your reviews are from angry customers that are posting the same complaint over and over again, you might have a problem. But all businesses, at some point, have some knucklehead (usually on Yelp), who thinks they're going to take your restaurant down because they didn't like the way the hostess asked them to wait 30 seconds while she cleared off a table and they had to stand next to a screaming kid (like that's your fault).
Or, heaven forbid the person that posted on your Facebook page that they saw one of your servers touch their mask and then touch their plate.
Even better, you're short-staffed right now, and mistakes happen, but some customers aren't cutting you any slack. They jump on the most important review site for your business… Google… and start angry typing for the littlest things. Just like this one from one of our clients:
Bad review for restaurant

Geez, no slack there! And we all know 15 minutes is usually like 2 minutes, in reality. Right now, we are seeing a HUGE increase in negative reviews across ALL review sites, especially for restaurants.
People are irritated because they don't want to wait, they don't want to wear a mask, and they want what they want when they want it!
We had another client that has a great reputation and does a very good job taking care of their guests. They received a review that would have been very damaging if it went unanswered. One of the worst things you can do is let a review, especially a bad review, go unanswered. It shows the world that you really don't care what your customers think– even if that customer is wrong.
Check out this review referencing wearing a mask and the vaccination status of the server. These can be very damaging statements if not addressed for any business. And the general public right now isn't bringing these matters to the businesses' attention; they are simply grabbing their mobile device and posting on whatever review site they choose. Here is the review on Google: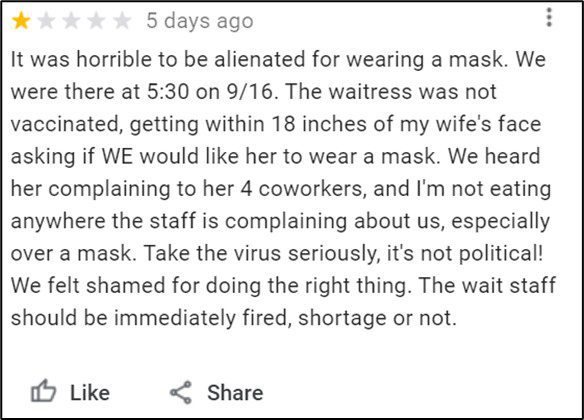 This could turn into a serious issue, if not responded to. Here is how we answered the review on behalf of the restaurant: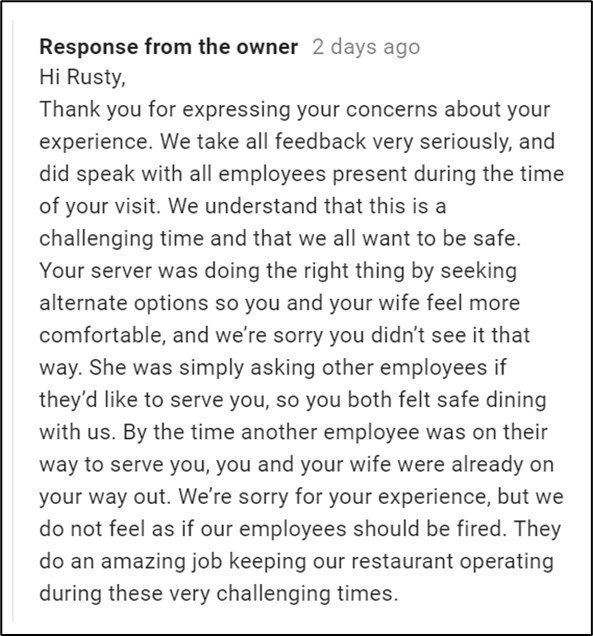 This is a great example of how you respond to a potentially dangerous review while still defending your reputation and not getting into an online battle with a customer… which is something you never ever want to do.
I know you might feel like you're fighting a losing battle dealing with external factors that are determined to make your business and the most important asset you have, your reputation, more challenging and complex than EVER. And you might be thinking- I don't have time to mess around with looking at and answering my reviews. And why should I care?
But, like I mentioned above- 92.8% of your new customers check at least 3 online reviews before coming to your business to spend money with you. And any potential new employee also checks out your reviews as well.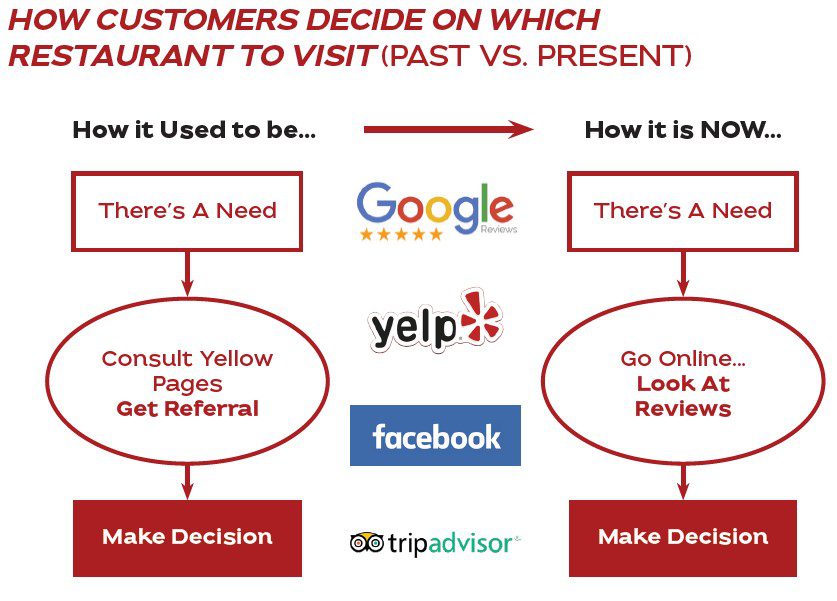 Given the state that we are in, how stressed out some customers are, and how they're prone to whip out their phones and post any little irritation they're feeling right now about your restaurant on your review sites, you need to know how to protect yourself.
How To Handle Any Review To Protect Your Reputation
I will give you some techniques that you can use when answering your online reputation with good and bad reviews from customers. This will help protect your reputation and what your new customers and new staff see when searching for information on Google before coming to your business.
Say Thanks
So first and foremost, you're going to want to thank them. I know that might be difficult for a negative review because you might be upset, especially if it is unwarranted, but if someone took the time to leave your review online, you're going to want to thank them for it.
It will also make you look like a business owner that cares about their customers. And remember, you're answering that review for the entire world to see. not specifically for the individual person that wrote that negative review, because everybody else has seen it as well. Remember, it's a reflection on you and your business.
Take Ownership Of The Review
If it is a negative review and it's warranted, you're going to want to acknowledge it. Take ownership of what the issue was. Be honest and sincere about it. People will appreciate that. Mainly people just want to vent and be heard- that's why they post on review sites.
You don't necessarily have to agree that what they wrote is true, especially if it isn't. But you must handle your response in a way to not attack or call out the reviewer. This isn't easy and can be difficult. That's why I suggest having someone else read your review before posting it.
Say You're Sorry
Apologize if it's something that went wrong and it is your fault. We all know you're not going to please everybody in the business. That's just not going to happen. Especially for restaurant owners, as you put through thousands of customers a week. There's bound to be somebody that isn't happy with their experience.
And typically, they go online to take it out on their keypad and want to be heard. This simple act of posting a review makes them feel better. Times have changed from way back in the day when I had my restaurants. Customers would have to actually tell you to your face what was wrong and give you a chance to fix it. Those days are long gone, my friend.
But again, very important to remember, instead of getting into a fight, don't argue with them (you won't win that argument), apologize. We had to fix so many reputations from angry business owners that have gotten themselves into hot water and started name calling their customers online. Remember, once it's online, it's there forever. Don't do it!
Take It Offline
If the situation dictates and you want to offer to make the issue right, take the communication offline. In your response, ask them to contact you at a company email address, or call the business. You will want to verify that it is the correct person and not just someone looking for a freebie. Yes, that does happen. Not very often, but it does happen on occasion.
I suggest using a company address because you don't want your private information out there for the world to see. And there's nothing wrong with asking someone to contact you offline to resolve a deeper issue.
Have Someone Else Read It
If you're going to answer the reviews yourself, have someone else read it before you post it, because if they look at it and go… oh, I don't know if I'd post that, you probably shouldn't.
Give it to your partner, a manager, employee, friend, relative, someone that can give you an unbiased opinion of what you wrote. This is the best safeguard you have against ruining your reputation for your business online. Be careful!
That's the benefit of having a service such as ours. We answer all reviews for our clients across all your review sites.
How To Get A Negative Review Removed
What do you do if you get an unwarranted negative review online? I get that question all the time. If the review is legitimate, it's difficult to get that taken down.
What we recommend is driving down that review with more positive reviews. There are several different ways how you can get more positive reviews for your business.
ASK, ASK, ASK
The best way to get more reviews is to ask and then direct them to the specific site that you want to drive the negative review down the list. Most people looking at a review site will look at the top three reviews, so you want to make sure those are good, recent reviews.
You can ask for reviews through email if you have an email list. If you have their mobile phone number and permission to text them, you can reach out via text and ask for a review. You can also have something customized that you can put in their guest checks, or the servers can hand out at the table, or a table tent, or on a business card. If you are going to ask them to cross media-going from print to the internet– give them a "QR" code of your review site that you wish to send them to.
Two Important Reasons to Respond to Your Critics:
Responding to reviews is good for customer relations; it shows that you care and pay attention to what your customers are saying about you.
Having fresh content and up-to-date information about your restaurant is how you move up the rankings on sites such as Google, Yelp, and Trip Advisor. Answering your reviews is a great way to keep information fresh and current about your restaurant… Google and the review sites love that!
Get a full review of your online reputation on Google and your Review Sites by one of our Review Marketing Experts. They will analyze your complete online reputation and give you a customized scorecard of how you rank against your competition and what you can do to get more stars, more new customers, and present the best image online for your business for your new employees. A $297 value, yours FREE because you read this blog all the way to the end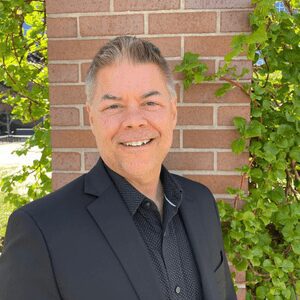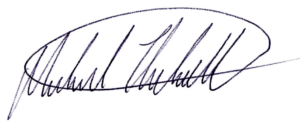 Michael Thibault
Known as "The Done For You Marketing Guy for Restaurants." International Speaker on Restaurant Marketing. Published contributing author of 4 Marketing Books. Industry expert on Google Searches and Review Sites. Recovering Independent Restaurant Owner and Caterer of over 21 years. And, all-around good guy.