Business Owners That Use DFY Bounce Back Promotions
"It was a GREAT month! We had 60% redemption rate on our Promotion and a 22% increase in sales over previous years. Thanks!!!!!"
"We get a better return every year on this promotion – ensuring a busy month! "
"Our guests are always excited by this promotion, and usually come in waving them around : ) They love it."
"I can say that this Promotion was a huge part on our staying in the black for the month."
The Secret Behind How This Money Making Election Program Works So Well
The Presidential Election is whats on everyone's mind right now, so why not use it in a fun, exciting way with your customers to make more sales?  This is called slipstream marketing.  It's very effective, because you use whats on the mind of your customers to supercharge your marketing.
This promotion is fun and Non-Political – so, nobody gets mad.  You are the third candidate and if your customers want to win the prize, they scratch off their ballot and vote for you!  Its fun and works like magic getting your customers back for dine in or carryout / delivery.
Give yourself and your guests a much-needed break from the Election craziness and have some fun with this PROVEN and TESTED Bounce Back Promotion that fills your cash register.
Here's how it works: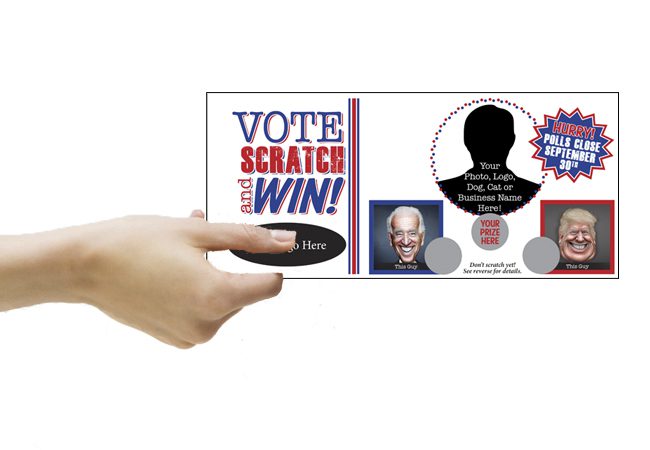 Step #1
Hand out your Scratch and Win Election Ballots to your guests that dine in or your carryout bags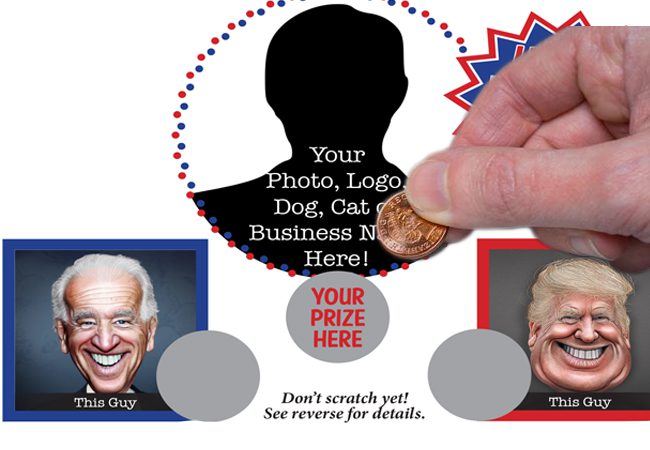 Step #2
Your customers turn in their ballots before November 3, Vote and Scratch to see what they won

Step #3
Your register is packed with cash from all the orders from your customers' voting and scratching to win

* This promotion works like crazy because everyone loves to win!
We have been doing Scratch-Off and No-Peeking Promotions for over the past 17 years…IT WORKS!
It has been proven and tested to work by thousands of restaurants with different styles and number of seats in all 50 states and Canada.
Your customers can't wait to vote and see what they've won!
The best part is – we will do all the work for you! I know you're busy, I used to own restaurants myself, we get it.
We will design, print, put the stickers on, and mail all of your scratch-off cards to you in time to pass out to your customers  – no work on your part. Just hand them out and watch your sales soar!
But, you need to act fast so we can ship them to you to pass out as soon as possible.
Another huge benefit is that this promotion, well, it's easy and cheap!
You don't have to put a stamp on these cards and mail them out (No Postage Cost). You HAND them to your customers that come to your restaurant. And you know it's getting directly into the hands of the right people because your staff gives them to your existing customers, that's half the battle for a successful marketing campaign!
It's like guaranteed delivery to your best customers for FREE!
Step 1: Click the ADD TO CART button below to fill out your order form.

Step 2: We will call to confirm your order and get some information from you, then start designing your customized cards.

Step 3: We will send you a proof then print, add the stickers, and mail your money-making Scratch-Off Cards to hand out to your customers. We do all the hard work for you!