Marketing that doesn't make you money is a waste!
The trouble is that there are so many different types of media to choose from, confusing technology, and so many ad reps willing to sell you space. It's hard to know what will work when you simply want RESULTS.
What works best for small, independently-owned operators are marketing campaigns that create a quick response and influence your target audience to take a specific, measurable action.
So how do you create such a piece to get results? Glad you asked; that's exactly what we're going to layout for you so you can use it for your business.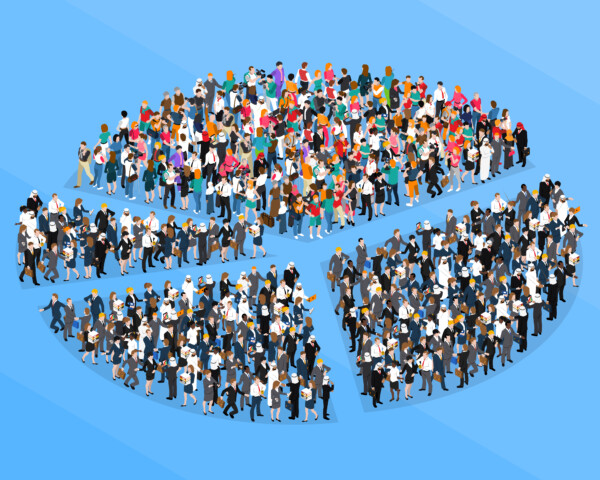 It all starts by defining your target audience. Who is this marketing for:
New customers?
Lost customers?
Existing customers?
A specific subset of customers?
Online followers?
This is important to decide first because it will help you craft your marketing message, so it matches your target.
For example, if you want to host a "paint and sip" night in your restaurant, you would think about your target being female and perhaps of a certain age and not your list of sports aficionados.
How To Create A Marketing Campaign That Gets Results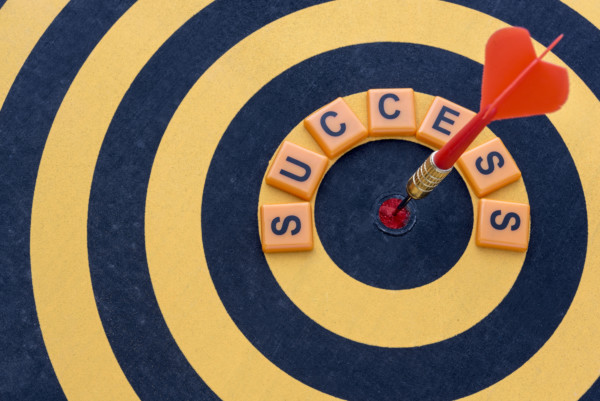 Creating marketing that encourages a quick response and influences your target audience to take a specific, measurable action needs some very specific components.
We'll share the marketing checklist we use for every piece of marketing we create. If you refer to it each time you launch a marketing campaign, you are sure to improve your results and get more sales.
This type of marketing is called direct-response or emotional-response marketing. It is effective because it lets you track the customer's response to the offer and measure the campaign's success in real-time. And if used correctly, it will create an IMMEDIATE response from the customer.
We'll use our Halloween Scratch Off Campaign to demonstrate the six fundamental principles in action and give you some direction on how to use this in your own marketing.
This is a great example because we have used it for hundreds of clients in various formats, and it has been proven to work repeatedly. This is targeted at customers who have just spent money in your restaurant. It is given to them at the end of the transaction to bring back on their next visit. It is classified as a bounce-back offer.
Let's break it down:
1. A Powerful Headline Hooks Them
Headlines are critical in marketing because they are the first thing potential customers see. It should answer the question in the reader's mind, "what's in it for me?"
In our case, the headline is "The Italian Bistro's $10,000 Halloween Giveaway!"
The reader knows that "what's in it for me?" is the possibility of winning some money. The headline grabs their attention; it makes them want to read further – so they don't miss their chance at $10,000.
Here are some important points to remember:
It is at the TOP of the marketing in large, bold font, bright color.
Your logo and business name are NOT a headline.
Its only goal is to attract attention and compel the audience to read more.
Focuses on benefits, not features. A feature is what something is, it answers WHAT, and a benefit is WHY it will improve their lives.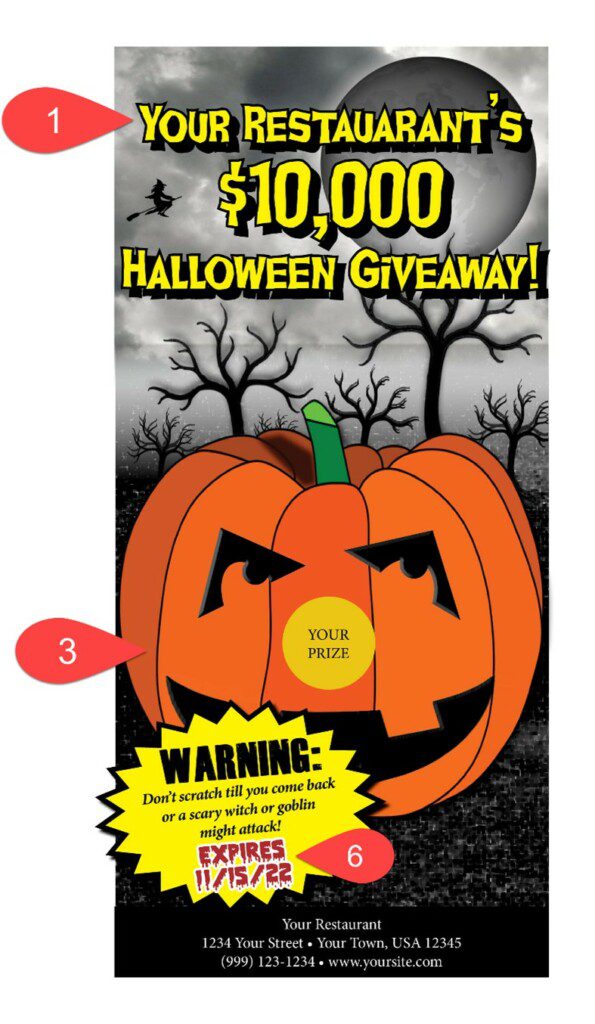 2. "Reason Why" Copy Tells Them Why You Are Doing This
"Reason Why" copy is important because it tells potential customers why you are doing what you are doing. Compelling copy tells a story that will engage the audience and compel them to keep reading. It provides an answer to "why are you giving me this?" It doesn't have to be a strong reason, just a reason.
This copy is intended to create a bond with the audience, and it's essential to show you understand them and their life. Be empathetic. If your marketing offers to solve a problem, talk about how you understand their lives and what is happening around them.
Our example is simple: "At The Italian Bistro, we love to give you treats for Halloween, not tricks." It's fun and connects with the holiday they are all aware of.
Write like you would talk and sound like to a friend (not a salesperson.)
Start sentences with "and." Use jargon and words the audience might use
Don't worry about proper grammar, and don't use stiff, formal elevated language.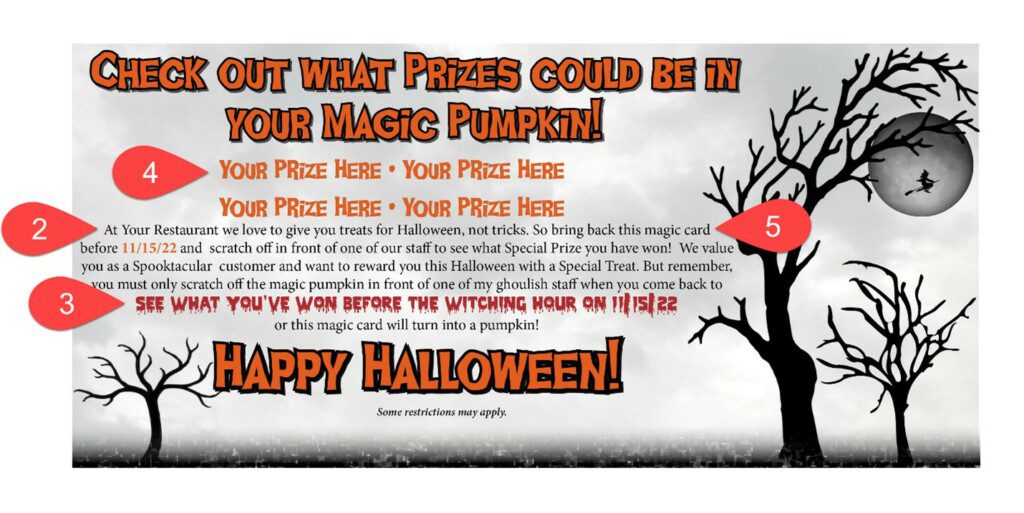 3. Appealing To An Emotion Creates A Connection
The best marketing triggers an emotional connection with customers and encourages them to take action.
Various emotions can be targeted, including love, happiness, joy, surprise, anger, fear, and sadness.
In our example, it is a scratch promotion that triggers the emotion of CURIOSITY. Once the customer has one in their hands, curiosity gets the better of them. The need to scratch and find out what's under the dot is irresistible. Most people love the suspense while waiting to see what they've won. The whole experience of playing a scratch card is positive, especially when you win (and everyone who plays your version wins).
It taps into FOMO (fear of missing out.) Although people logically know that the odds are they won't be the big winner, there's always that 'but what if…" which means they'll be sure to come in to visit your business just to scratch and see!
4. An Irresistible Offer Makes Them Act
When creating a compelling offer, you must consider what the potential customer wants or what problem you can solve. Not every customer will respond to every offer. New customers are skeptical; they'll require a stronger and bigger offer. Customers who already know and love you will need smaller offers, but perhaps more creative and unique ones. A great offer creates a powerful reason to respond or act and provides value to the customer. It should be so irresistible that the audience says, "Why WOULDN'T I do this?"
In our example, the offer is a variety of prizes listed on the back. They add up to create the $10,000 giveaway amount. There is usually one big prize and various medium and smaller options. Each prize is something that the reader will be excited to win – and what makes it irresistible is that EVERYONE will win something. You are guaranteed to win if you bring the envelope back to scratch. Under each scratch dot is a prize. No one loses. Who can resist!
5. A Call To Action Tells Them HOW To Act
Call to Action is important because it tells potential customers what you want them to do next. This is often what is missing in the marketing we see.
People need clear direction; they need to be clear about the specific action you want them to take.
"Come in and see us again" isn't a call to action; it's too vague. Your directions must be clear and direct so there's no confusion about what you want them to do.
On the back of our example, you read, "Bring in this magic card before 11/15/11 and scratch it off in front of one of our staff to see what special prize you have won!" There is no question about what they must do to get their prize.
6. Your Expiry Date Creates Urgency
Every call to action needs an expiry date. An Expiry Date creates a sense of urgency and encourages people to take action now. They'll miss out on your offer if they don't act now. It also provides a finite end to the promotion, which means it is easy to measure.
After the expiry date, you count up the number of promotions redeemed, how much they generated in sales, and compare it to how much the marketing cost you to create. That gives you your return on investment, and you can make data-driven decisions about whether it was worth it and worth repeating.
Never guess or assume the results of your marketing.
Creating A Marketing Cash Winner
Following these six components and ensuring that all of your marketing contains each element directed at your intended audience will begin to create your arsenal of proven campaigns that you can use repeatedly.
These are all critical components of an effective direct-response marketing campaign. If you can master these elements, you'll be well on your way to the sales growth you want.
Want to Pack Your Restaurant In October using this exact DFY Scratch And Win Sales Generating Promotion?
Customized for your restaurant.
And get….
"FREE SHIPPING" (Expires 9-15-22)
See how I used an irresistible offer with an expiry date to get you to take action?
But seriously, it would be scary if you missed out on the sales-making opportunity to put butts in seats this Halloween Season. Check out all the details and a bunch of stories from restaurant owners who have done this promotion and "killed it" in October.
I'd crawl through a herd of flesh-eating zombies to get to this deal. Ok, ok, enough with the jokes. But seriously, click the button and let us pack your place.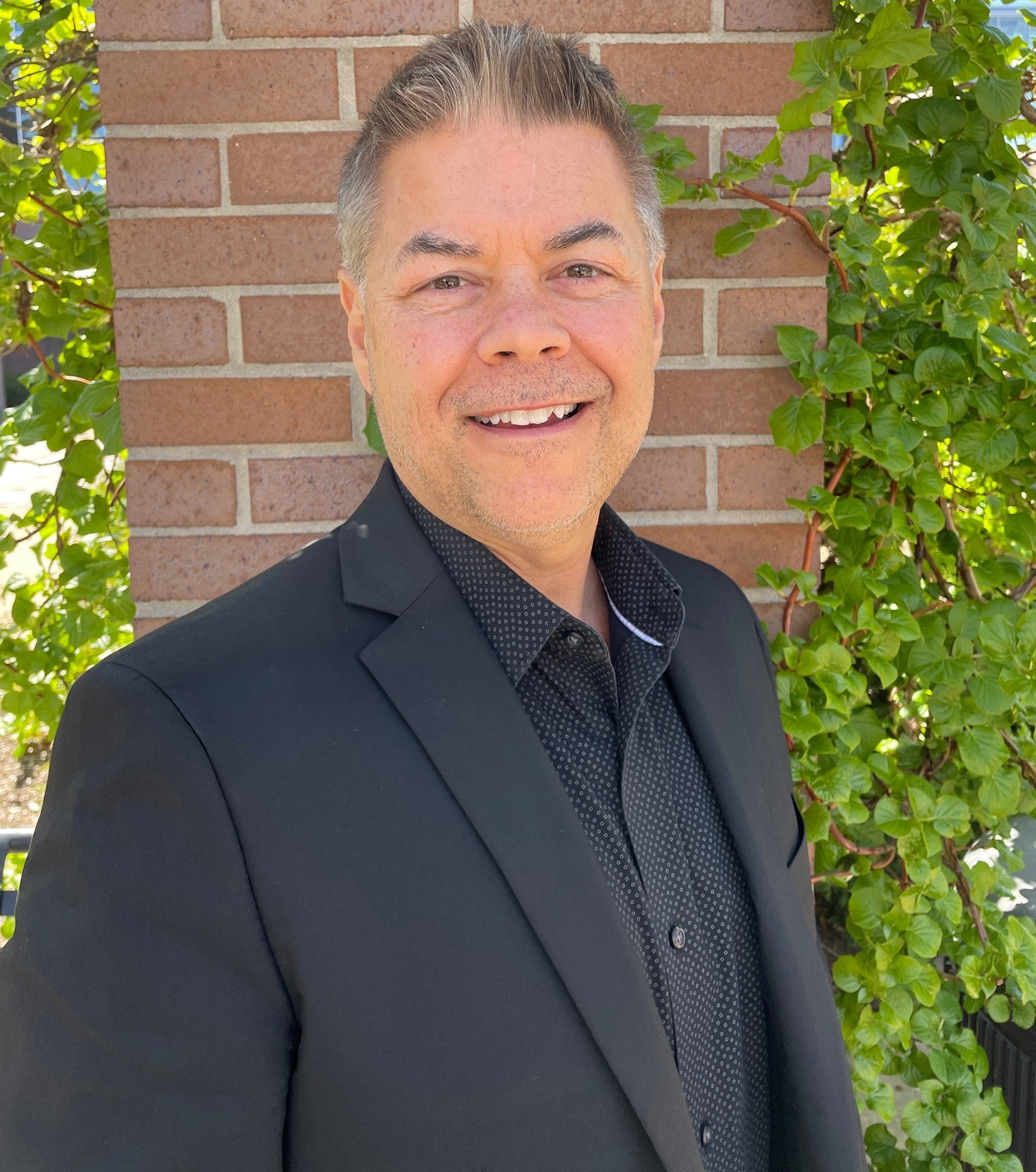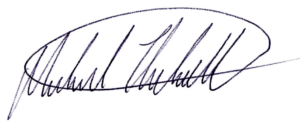 Michael Thibault
Known as "The Done For You Marketing Guy for Restaurants." International Speaker on Restaurant Marketing. Published contributing author of 4 Marketing Books. Industry expert on Google Searches and Review Sites. Recovering Independent Restaurant Owner and Caterer of over 21 years. And, all-around good guy.