How To Create Exciting Marketing Strategies That Produce Results In The Restaurant Industry
There's no doubt that owning a restaurant is hard work. The restaurant industry is not easy. Staffing shortages, rising food costs, fewer customers, and a lot of competition vying for them.
In today's climate, you really have to work for more customers and sales growth each month. One of the most important aspects of being a successful restaurateur is ensuring your marketing strategy is creative and engaging. After all, if no one thinks about your restaurant, how will they ever remember to visit?
Hell's Pizza, a chain in New Zealand, quickly became known for its unique and controversial marketing campaigns. One of the more successful ones was Pizza Roulette. If the customer chose the "hottest chili known to mankind" pizza, one was hidden in one of their pizza slices. The catch is that the guests wouldn't know which slice has the super-hot sauce.
It created a lot of curiosity and interest, and there was no extra cost to play this limited-time event. They've since repeated a few times, so it must be a winner for them, bringing in extra business. It certainly doesn't classify as BORING. People talked about it and brought their friends.
There are other spins on this, such as spinning a wheel to randomly choose a drink or dessert for the indecisive or adventurous. Or a spin the wheel at the end of the transaction to win a prize on the next visit (a bounceback offer). We've also heard customers rolling dice to pick menu items or a percentage off their bill. These ideas aim to turn the experience at your restaurant from ordinary to out of the ordinary.
It's not enough to rely on word-of-mouth or traditional advertising methods anymore. You must find uncommon marketing strategies to reach potential diners and get them through your doors. And this type of marketing is perfect for promoting organic social media sharing from your customers.
Creating creative marketing strategies is essential. There are many different ways to get creative, so don't be afraid to test something new. Keep in mind that it's important to tailor your marketing efforts to your target audience, your best customers. If you can find a way to connect with both existing customers and potential customers, you're on the right track.
The Challenges Of Marketing An Independent Restaurant
Independent restaurants have a lot of challenges that chain restaurants don't face. For one, independents don't have the same name recognition or resources as chains. They also can't always afford big advertising campaigns, so they have to get creative with their marketing.
Another challenge for independents is that they're often in a more competitive market than chains. With more restaurants opening all the time, independents need to find creative ways to stand out and attract customers. This can be tough, but it's essential if you want to survive. You'll be successful when you find a way to connect with your customers and offer them a different and entertaining customer experience.
If you want to keep your customers engaged and coming back for more, you need to remind customers by being creative and using proven strategies that work. This doesn't mean spending a lot of money – often, the most memorable experiences and enticing offers are low-cost!
The Benefits Of Creative Restaurant Marketing Ideas
Customers have short memories and attention spans and constantly need reminders about your restaurant. They have busy lives, and your restaurant is rarely top of mind. Sorry.
If you can create a memorable experience for them, they're more likely to choose you when they think about eating out. That's why it's important to keep your marketing strategies fun, unique and creative so that your customers are always curious about what you have in store for them. You want them to be excited to return to your restaurant and experience something new each time.
If you want your restaurant to be successful, you need to think outside the box and come up with unique marketing strategies. Boring campaigns will not keep customers engaged; they will simply choose another more intriguing restaurant or offers more interesting promotions and events. Sure, some customers will return without any work on your part, but they are a small part of your market, and most customers need to be lured.
Standing Out From The Competition Is Easy.
Finding ways to stand out from everyone else isn't difficult because many restaurants do so little in marketing. Look around your community; aside from the ones
competing on price by couponing (which you NEVER want to do), who's doing any engaging marketing? Pretty sure it's an easy battle to win.
Your unique and creative marketing will make you stand out from the competition. Customers are more likely to choose your restaurant again when they are engaged and entertained. Clever marketing can also help create memorable experiences for diners, encouraging them to choose your restaurant over others.
The Starting Point For Unique Marketing Strategies
Some of the starting points for creating a unique customer engagement strategy are old ideas that only need a new twist. Here are a few categories to help get your juices flowing:
Loyalty programs understand your target audience.
Social media interaction: responding and positive and negative reviews.
Local partnerships – barter and trade – cross promote.
Fundraisers – Sponsorships.
Giveaways – bounceback offers, scratch promotions.
Social media campaigns with hashtags – unique to you – not a larger audience.
Contests – online or in-house – menu scavenger hunt, QR code hunt.
Special Events – Trivia Nights, Wine Tastings, Live Music Nights, Kids Eat Free. Happy Hour Specials.
Celebrations, birthdays, anniversaries, business milestones, national days/months, seasonal holidays.
Specialty menu items like the Roulette pizza above, a wild dessert, a specialty cocktail, or a giant burger challenge.
Create A Reason To Return
Your existing customers are the easiest and most profitable target you have. They have already experienced and liked you; they know where you are and what you do and need less convincing than someone who has never walked through your door. Also, the people most likely to buy from you are the ones most recently bought from you. You just need to find ways to remind customers how great you are.
Once they come in to dine with you, it's time to give them a reason to return again as soon as possible before they are distracted again. A great way to do this is by offering bounceback offers, such as a special offer to redeem on a future visit, like a free appetizer.
We've created several bounceback promotions for our clients, but the most popular (meaning it made the restaurant owners the most money!) is the Red Envelope No Peeking Promotion.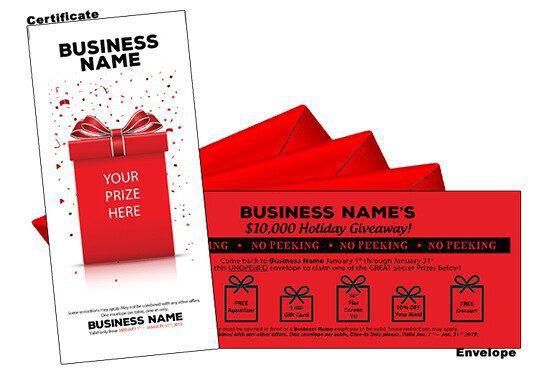 It works by giving everyone who visits in a specific period a sealed red envelope with a prize inside. The only way the prize can be revealed is if the envelope is returned before the deadline unopened. When they redeem it, they open it and earn the prize inside. It's as simple as that! It generates a ton of excitement in the restaurant, and you can create all kinds of events and decor around it to ensure that everyone knows and remembers it's happening.
Michael Thibault
Known as "The Done For You Marketing Guy for Restaurants." International Speaker on Restaurant Marketing. Published contributing author of 4 Marketing Books. Industry expert on Google Searches and Review Sites. Recovering Independent Restaurant Owner and Caterer of over 21 years. And, all-around good guy.
Follow Us On Social Media