It's the holiday shopping season – when the stores are filled with shoppers, and everyone is scrambling to get their hands on some great deals. You don't have to sell Cabbage Patch Dolls (they caused a frenzy as the hot ticket in 1983), Nintendos (a staggering 7 million consoles were sold in 1988), or Instant Pots (that was 2017).
Black Friday can be a very lucrative time for your business if you know what you're doing. I'll walk you through some proven Black Friday marketing ideas that will help make your Black Friday sales thrive! With the right Black Friday campaigns, offers and opportunities – you can lure some of the Black Friday madness into your business.

Make 1 Day Into 4 Days
First of all, don't force black Friday customers into a small window of opportunity. Extend your sale from Black Friday until Cyber Monday to allow everyone the opportunity to come at a time that might give them some breathing room. Black Friday used to be the main day for retailers to have their best sales, but now the money keeps rolling in until Cyber Monday. You could even start it earlier in the week, more and more businesses extend their sales beyond the full four days, a Black Friday Week!
Market Using Every Media Available
These days there is so much technology at our fingertips – it's easy to think that we can send an email or two and have our message be read. But there are so many more avenues to take advantage of, and you have no idea which one your customers are most likely to respond to.
Use all the media available to you – social media posts (including video), email, texting, in-house marketing, and direct mail effectively for your Black Friday promotions, contests, and deals. You can increase traffic by offering a countdown to the 4 days – so that every person you have access to knows what's happening. Think MASSIVE ACTION on all fronts!
Maximize Your Email List
Whatever your offers and deals are, if no one knows about them, then Black Friday shoppers won't come and get them. The key to getting your emails read is a great email subject line – make sure it's compelling enough to get people to open it, an unopened email is useless.
Some examples of great holiday subject lines you can use to get your emails opened are:
First Name, you're on Santa's good list this year!
Special Sale Just for You
Don't Miss This Black Friday Extravaganza
Only 24 hours to go (send this one the day before your sale)
Biggest Sale of the Year
(Only use these 2 if you have online sales):
Get Your Holiday Shopping Done with One Click
Get Your Holiday Shopping Done in Your Underwear
Start a regular email campaign to your existing customers, a daily countdown for at least the week before the event starts. Entice them with the products you are preparing to sell, the special offers you are making. These are people who have already bought from you before – so they have the "know, like and trust" factor. All you need to do is give them a good reason to come back.
Social Media Posts
Your social media posts can provide the same information you give to your customer email list but remember that this is a list largely made up of people who may not have given you money in the past, they should be treated as potential customers. Use it as a new customer acquisition strategy to offer sneak peeks at deals or hints at special deals. Use video and images to maximize the engagement – people what to support small local businesses, so infuse your personality into your posts.
A good FREE design program that you can use to create social media posts is called Canva. Easy platform to figure use and has templates that are pre-created for social media platforms.
Special Loyalty Members Offers
If you have a loyalty program, then you know who your best customers are. Make sure that they get special treatment, early access, or exclusive offers and opportunities. You could offer extended hours to them, added bonuses, or free gifts with each purchase, priority shopping or bonus loyalty points. The whole reason to have a loyalty program is to embrace the people that give you the most money and let them know that the more loyal they are, the more you appreciate them.
You could have a pre-sale just for them. Make them feel special by doing something only for your members. They like that and will continue to do business with you next year.
Bounce Them Back
Here's one of my favorite make-more-money selling techniques. Why not get your customers back again, and again, and again… even after the holidays? Dig the well before you thirst and use a bounce back offer so your customers will visit you after the holiday season is over.
Black Friday sales create a crowd of customers in your business, and this makes a perfect opportunity to give them something as a "thank you" when they give you money. One idea is a promotional gift card that is valid during a specific time period with a short expiration date to encourage a quick return. You want to create a habit with your customers.
A standard offer is usually something like "Buy a $50 gift card and get a $10 bonus card," but surely, we can be more creative than that!
With every $50 gift card purchased, get Our Famous (You fill in dessert or special product) for FREE!
Or…
With every $50 gift card purchased, get a FREE entry into our draw to win XYZ!
But even better, get creative, kick it up a notch, and stand out from the herd. You have a starving crowd eager to buy at your business, so give them all a reason to return. Our No Peeking Promotion is great for this.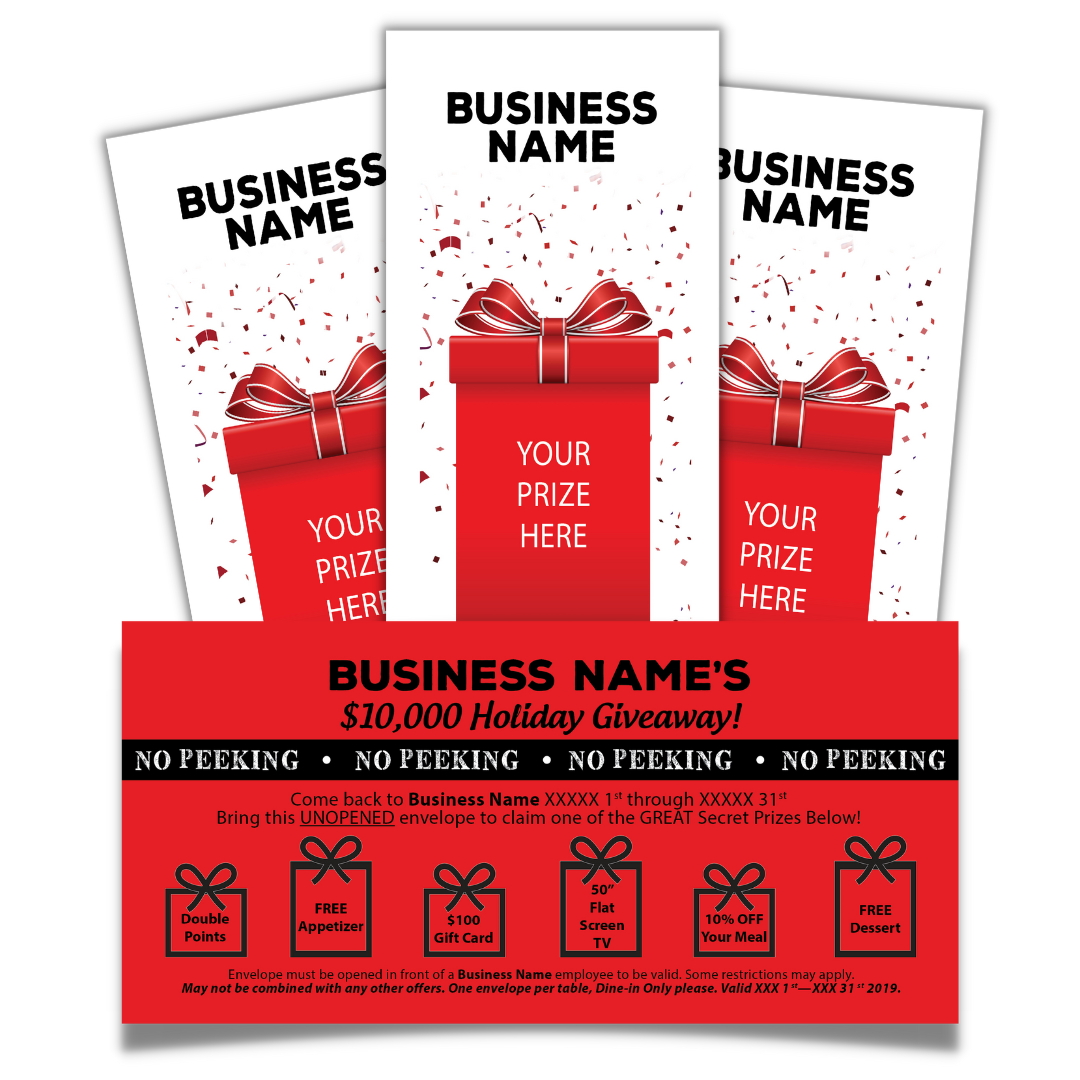 And to get the most out of your holiday business and to give you the momentum going into 2024, check out our best promotion of the year. The Done For You No Peeking/Red Envelope bounce back promotion.
This promotion leverages how busy you are in December to double your sales during the slow month of January. Nothing else compares to the effectiveness of this promotion in terms of ROI.
Check out this special webpage that reveals how thousands of restaurant owners turn January into the busiest month with this promotion. And see how one restaurant owner used the No Peeking to increase his sales $110k during his slowest time of the year.
Create a Gift Guide
Think about your target market and who they are buying for, then create gift guides with items that would appeal to those recipients:
Gifts under $50
Gifts for the Golfer
Gifts for the fashionista
Gifts for the "hard to buy for"
Gifts for teachers and mail carriers
Gift Guides can be handed out in-store during the Black Friday weekend or sent in your emails and social media posts in advance. Fill each list with items that have great profit margins for you, limited quantities of hot sellers to encourage action or are items you want to sell out of.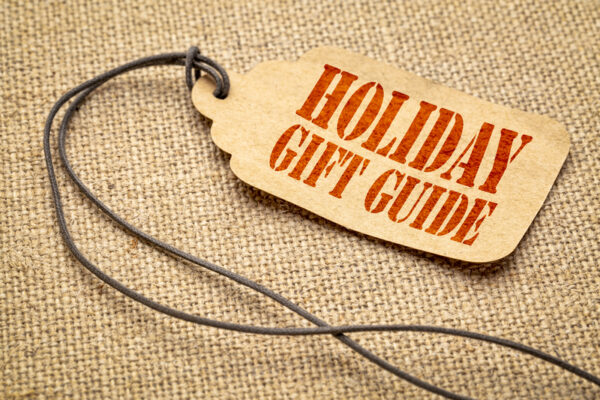 Send a Scratch Off Offer
Direct mail is an effective medium because few businesses are smart enough to utilize it, and people always look at what's in their mailbox. Send a direct mail campaign to your top customers and give them a scratch off that they must scratch at the register in-store during your Black Friday sale. Offer special prizes and freebies that get added onto their purchase over discounts or items that will encourage an increased average order size.
Work with a charity
Donate a percentage of sales or a set amount per specific item purchased to a favorite charity or a local community event. The media is already letting people know what businesses are working with which charity. What's yours?
Here are a few examples you can build on:
Turkey bowling for charity. Use a frozen turkey and get some pins from a local bowling alley and have a turkey bowling torment where the winner takes home a gift card or a holiday bird. (I wouldn't use the frozen one that everyone is rolling around, just an FYI.)
Have volunteers from that organization man a gift-wrapping station. Or have your employees wrap on a specific day at your business for charitable donations.
Throw a holiday-themed dinner event and donate profits to charity.
Guest holiday bartenders where they donate all tips to the charity.
Gift card match donation from your business up to a certain amount for all gift cards purchased on a certain day.
But again, it's imperative to include it in all your marketing leading up to the event. Let people know what, when, and where. And don't forget to get the charity and the press involved in the marketing.
Go Big!
You are fishing in a big ocean of customers when it comes to Black Friday – so the offers and promotions you chose have to be big – they need to be a decent enough lure to attract and catch the customers you want. The most effective Black Friday marketing campaigns need to be amplified – more frequent marketing, more marketing channels utilized, bigger offers, and more excitement. To get noticed, you will have to stand out from the crowd of other businesses both big and small, vying for the attention of your target market.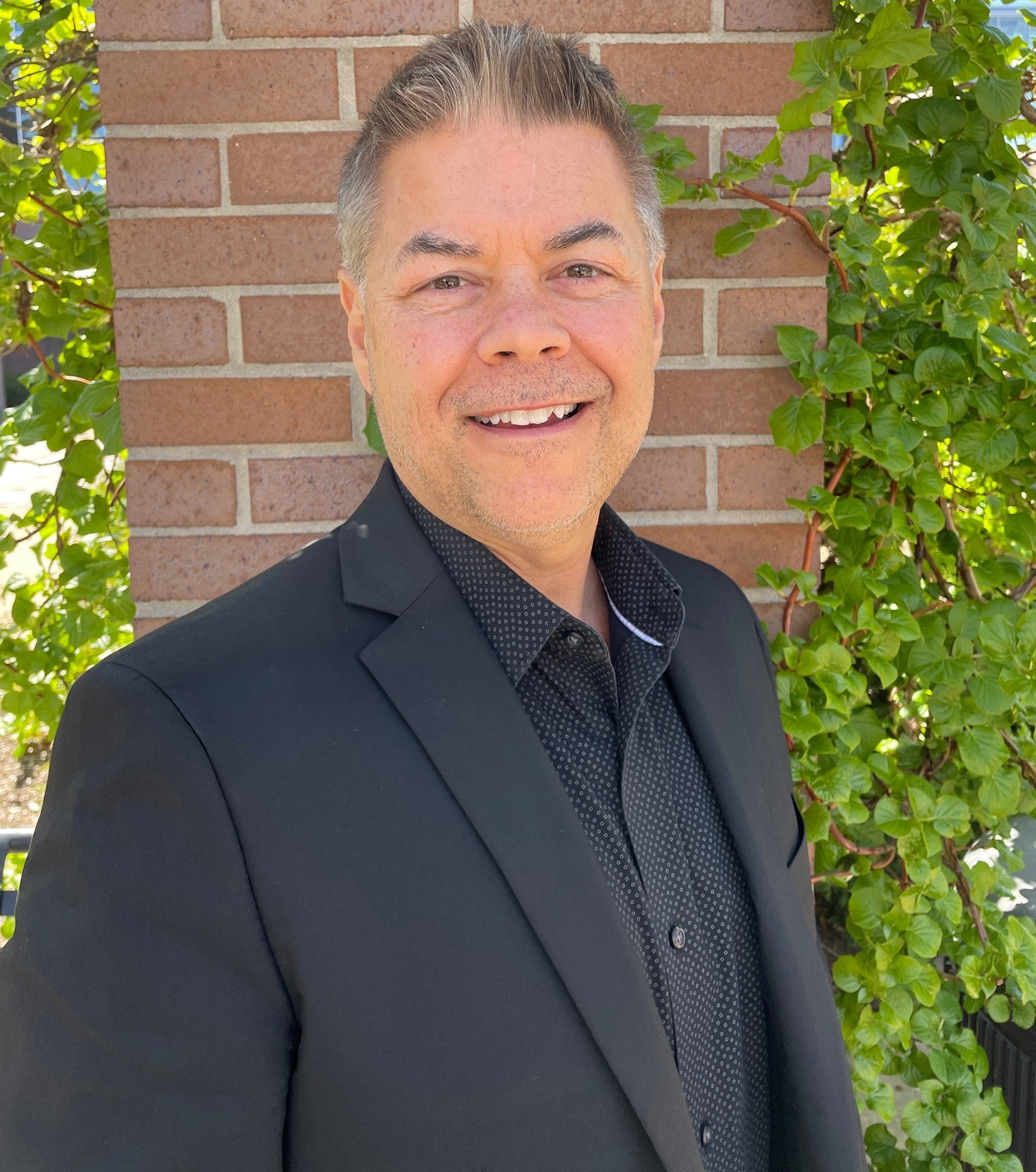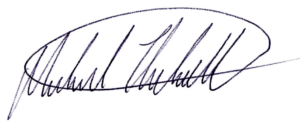 Michael Thibault
Known as "The Done For You Marketing Guy for Restaurants." International Speaker on Restaurant Marketing. Published contributing author of 4 Marketing Books. Industry expert on Google Searches and Review Sites. Recovering Independent Restaurant Owner and Caterer of over 21 years. And, all-around good guy.